John Clare -- The Ultimate Real Estate Guide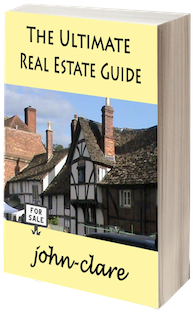 This is an updated version of a book I first

wrote in 1993 which was originally called Buying to Let; Your Pension. After all, it was me who invented buy-to-let back in 1991. This is the third edition, updated.

I give a list of the metrics which property specialists should be observing, and show how they can always be used to show where we are in any particular property market, and how to use those metrics to buy and sell wisely.
Click the button below to be taken to a secure bank transaction page. You will then be guided to the download page.
This is a book which every property professional and wannabe should read. It will tell you whether it's a good time to buy or not; and most importantly, this is the only book on real estate that tells you just how you should value that house or apartment. And there are charts and spreadsheet analyses to help the reader understand what is going on
This book will save you tens of thousands of pounds and decades of heartache
Finally, if you have any questions or problems,
email me
. I'm always happy to assist.
I can tell you how to value a house. No estate agent can do that and neither can a surveyor, because they don't know the difference between intrinsic value and sentiment value. Use the wrong value and you will be in trouble.
There are chapters on buying property as part of a pension scheme, and a chapter on the best way to get started with buy-to-let. There are also chapters covering the auction scene, property reversions, and a thorough investigation into the off-plan market, with copious warnings on what to beware.
Finally, there is a chapter rescued from my first book showing precisely how buy-to-let started, and the problems we had in getting underway. This also points up just how drastically the maths have changed for the worse over the years.